Choosing a Wedding Reception Dress
In the recent years, many brides in Singapore are choosing two bridal dresses for the big day: one for the ceremony and another for the reception. The gown for the ceremony looks more formal and usually restricts movement, such as mermaid silhouettes and ballgowns. Brides who opt for these ceremony dresses prefer to change into a completely different dress for the reception, so they can dance and move around comfortably.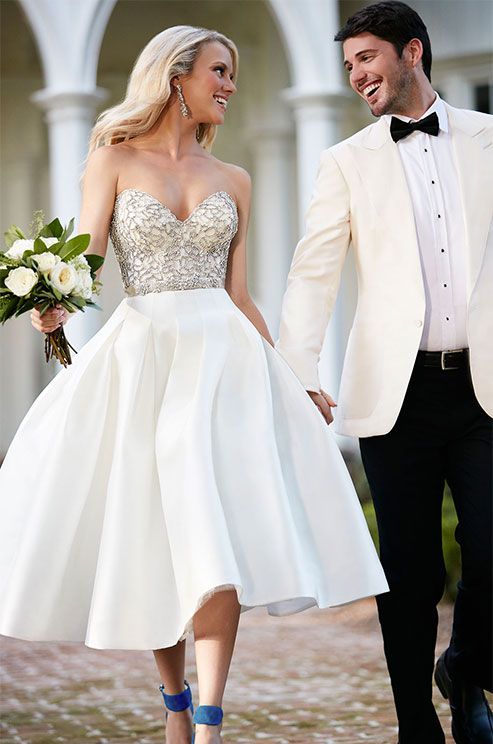 A bridal studio offers a myriad of options to choose from. If you consider switching into a comfortable reception dress on your wedding day, make sure to keep these tips in mind.
1. Go Short
One great thing about having a second bridal wardrobe is that you can pick a shorter and more comfortable type of dress. Many boutiques in Singapore have collections of short wedding dresses—some are more formal while others look casual. If you're going for comfort, a halter style with flowing skirt would be a perfect pick. For a more formal choice, you can go for a tube or sweetheart top with fuller skirt.
2. Go Long But Keep it Simple
If you wish to wear a floor-length dress for your reception, ask your bridal boutique for more forgiving silhouettes and dresses made of comfortable materials—think empire waist and sheath dresses. The one thing to keep in mind is that you don't want your reception dress from the amazing bridal studio in Singapore to outshine your ceremony gown. Beadings and laceworks are fine, but keep them less than your ceremony dress.
3. Have Fun With Colours
Brides don't always have to wear white. Choosing a coloured reception dress is a new trend that more and more Singapore brides are embracing. For instance, if your wedding colours are purple and pink, choose a cocktail dress in the shades of those colours or a beautiful red dress. An important point to remember, however, is to not choose a colour that matches your bridesmaids. You want to stand out at your reception, not to blend in with the crowd.
4. Let Your Personal Style Shine
Stay true to your style when choosing a ceremony dress and a reception dress. Your style will tie both looks together. For example, if you aim for a fairytale-like wedding, choose regal style dresses. For the ceremony, wear a ballgown or a princess style wedding dress, with intricate beading and off-shoulder sleeves. For your reception dress, pick a sweetheart, A-line, tea-length dress. When both of your dresses reflect your style, the outfit changes will flow seamlessly together.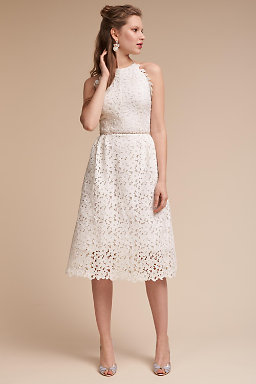 5. Include Traditional Pieces
If you want a touch of your culture in your wedding, your reception dress can be a great way to represent it. For Singapore brides, you can wear a cheongsam. Choose the shorter style for a more comfortable choice. Another way is to accessorize accordingly if you don't want to don a traditional dress. Instead of wearing a cheongsam, accessorizing in red and gold would be a tasteful option to keep your culture subtly included in your celebration.
6. Consider Transition Dresses
Some boutiques carry dresses that can be worn in different ways, so make sure to ask your bridal studio for this collection. Some full skirts can be removed to reveal a short dress underneath, long sleeves can be detached to reveal off-shoulder straps, or boleros can be removed to reveal sleeveless or tube top. By wearing a dress with these elements, the transition from ceremony to reception look is automatically cohesive since the body of the dress is retained.
7. Mind the Fabric and the Beading
If your wedding gown displays opulence and elegance, carry this glamorous look into your reception by bringing the exquisite elements from your ceremony gown to your reception dress. For example, if your first dress is adorned with heavy beadwork, ask your bridal boutique consultant for dress options in sheath silhouette with beaded neckline or sash/belt that hints at the opulence of your wedding gown.
When to Change Dresses?
First off, plan things ahead of time. Have the dress, shoes, and jewellery (yes, some brides switch all the accessories, too) all laid out in the master's room of your reception venue. Designate one or two of your friends (but definitely not three or more) or your wedding planner to help you change. If you bring too many people in the changing area, it might take longer for you to change than necessary.
Ideally, you can change right after the ceremony, before the reception starts. However, some brides choose to change after the first dance or before the party started. If you prefer changing while the reception is going on, make sure not to be gone for more than 10 minutes or your guests will notice you have been gone long enough. Your wedding planner should be able to keep you on schedule and urge you to get back to the party if you've been in the changing room for too long.
Having two wedding dresses is a relatively new trend in Singapore weddings, so don't confine yourself to a certain fashion rule or expectation. Take advantage of this opportunity to spice things up in your wedding day, to be creative with your look and to surprise your guests, and most of all, your groom. But remember, it isn't necessary to change into another dress. If you love your wedding gown and prefer not to take off the dress you painstakingly put on earlier, you can certainly wear it throughout the night.