Wedding Occasion
In the recent years, many brides in Singapore are choosing two bridal dresses for the big day: one for the ceremony and another for the reception. The gown for the ceremony looks more formal and usually restricts movement, such as mermaid silhouettes and ballgowns. Brides who opt for these ceremony dresses prefer to change into a completely different dress for the reception, so they can dance and move around comfortably.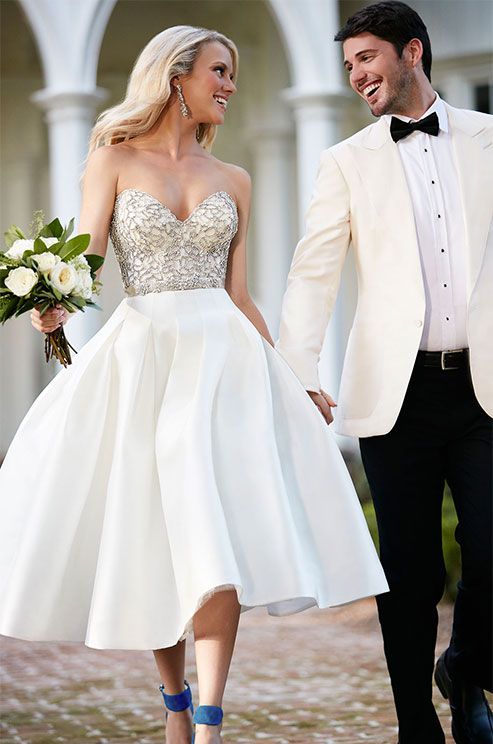 A bridal studio offers a myriad of options to choose from. If you consider switching into a comfortable reception dress on your wedding day, make sure to keep these tips in mind.
1. Go Short
One great thing about having a second bridal wardrobe is that you can pick a shorter and more comfortable type of dress. Many boutiques in Singapore have collections of short wedding dresses—some are more formal while others look casual. If you're going for comfort, a halter style with flowing skirt would be a perfect pick. For a more formal choice, you can go for a tube or sweetheart top with fuller skirt.
2. Go Long But Keep it Simple
If you wish to wear a floor-length dress for your reception, ask your bridal boutique for more forgiving silhouettes and dresses made of comfortable materials—think empire waist and sheath dresses. The one thing to keep in mind is that you don't want your reception dress from the amazing bridal studio in Singapore to outshine your ceremony gown. Beadings and laceworks are fine, but keep them less than your ceremony dress.
3. Have Fun With Colours
Brides don't always have to wear white. Choosing a coloured reception dress is a new trend that more and more Singapore brides are embracing. For instance, if your wedding colours are purple and pink, choose a cocktail dress in the shades of those colours or a beautiful red dress. An important point to remember, however, is to not choose a colour that matches your bridesmaids. You want to stand out at your reception, not to blend in with the crowd.
4. Let Your Personal Style Shine
Stay true to your style when choosing a ceremony dress and a reception dress. Your style will tie both looks together. For example, if you aim for a fairytale-like wedding, choose regal style dresses. For the ceremony, wear a ballgown or a princess style wedding dress, with intricate beading and off-shoulder sleeves. For your reception dress, pick a sweetheart, A-line, tea-length dress. When both of your dresses reflect your style, the outfit changes will flow seamlessly together.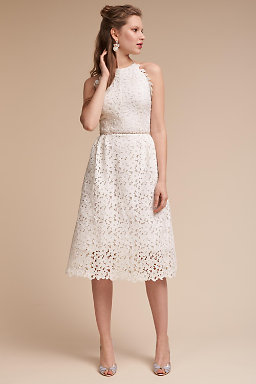 5. Include Traditional Pieces
If you want a touch of your culture in your wedding, your reception dress can be a great way to represent it. For Singapore brides, you can wear a cheongsam. Choose the shorter style for a more comfortable choice. Another way is to accessorize accordingly if you don't want to don a traditional dress. Instead of wearing a cheongsam, accessorizing in red and gold would be a tasteful option to keep your culture subtly included in your celebration.
6. Consider Transition Dresses
Some boutiques carry dresses that can be worn in different ways, so make sure to ask your bridal studio for this collection. Some full skirts can be removed to reveal a short dress underneath, long sleeves can be detached to reveal off-shoulder straps, or boleros can be removed to reveal sleeveless or tube top. By wearing a dress with these elements, the transition from ceremony to reception look is automatically cohesive since the body of the dress is retained.
7. Mind the Fabric and the Beading
If your wedding gown displays opulence and elegance, carry this glamorous look into your reception by bringing the exquisite elements from your ceremony gown to your reception dress. For example, if your first dress is adorned with heavy beadwork, ask your bridal boutique consultant for dress options in sheath silhouette with beaded neckline or sash/belt that hints at the opulence of your wedding gown.
When to Change Dresses?
First off, plan things ahead of time. Have the dress, shoes, and jewellery (yes, some brides switch all the accessories, too) all laid out in the master's room of your reception venue. Designate one or two of your friends (but definitely not three or more) or your wedding planner to help you change. If you bring too many people in the changing area, it might take longer for you to change than necessary.
Ideally, you can change right after the ceremony, before the reception starts. However, some brides choose to change after the first dance or before the party started. If you prefer changing while the reception is going on, make sure not to be gone for more than 10 minutes or your guests will notice you have been gone long enough. Your wedding planner should be able to keep you on schedule and urge you to get back to the party if you've been in the changing room for too long.
Having two wedding dresses is a relatively new trend in Singapore weddings, so don't confine yourself to a certain fashion rule or expectation. Take advantage of this opportunity to spice things up in your wedding day, to be creative with your look and to surprise your guests, and most of all, your groom. But remember, it isn't necessary to change into another dress. If you love your wedding gown and prefer not to take off the dress you painstakingly put on earlier, you can certainly wear it throughout the night.
Like your relationship, your engagement ring is made of strong stuff. Precious metals and gems are difficult to damage, but just like any other good things, they require a little upkeep. Your engagement ring needs to be cleaned not only for aesthetic and hygiene purposes, but because jewelleries are investments and need to be maintained to hold its value. So, how can you make sure that your diamond ring stays sparkly throughout the years?
Keeping Your Ring in Excellent Condition
When to Remove Your Ring
• Remove your ring before doing any household chores. Use of rough equipment and harsh chemicals, such as chlorine and ammonia, can affect the shine and condition of the jewellery.
• Take off your exquisite wedding bands from Ling Jewellery from Singapore before going swimming. Your fingers tend to shrink when exposed in cooler temperature, causing the ring to fall off.
• Remove the ring before applying lotion or any cream and oil products to your hands to avoid build-up that can dull the stone.
How to Maintain Your Ring
• Clean your engagement ring at home at least once a week to keep its brilliance.
• Have your ring inspected by qualified jeweller in Singapore at least twice a year to check for any loose stones and to ensure that the setting is secure.
• Make sure to have any repairs done right away.
How to Safely Store Your Ring
• Keep your ring in the same, safe spot every day to avoid misplacing it.
• Always keep your engagement ring by itself in a box, stored in a safe place, to prevent it from getting scratched by other jewelleries.
• Avoid removing and leaving your ring in vulnerable places, such as bathtubs and sinks, where it can easily get knocked off and lost.
Cleaning Tips
At Home Cleaning
The best way to clean your jewellery at home is to wash it in water-and-liquid-detergent solution. A soft-bristled brush can be used to loosen dirt and build-up, and a lint-free cloth for drying the ring. You can also use store-brought jewellery cleaners for soaking your diamond ring. If cleaning a gold ring, ammonia (in mild solution with three parts water) is excellent for restoring brilliance. However, do not use it on treated diamonds as it can cause the stone to become discoloured or become cloudy.
Professional Cleaning
At least twice a year, have your wedding ring professionally cleaned. Steam cleaners and ultrasonic are some of the most popular choices among jewellers in Singapore. If your diamond is extremely dirty, your jeweller may have to boil it in sulphuric acid, though this is usually a last option. If your ring has serious flaws, like cracks and fractures, make sure that your jeweller is aware as certain cleaning methods can worsen the condition.
The Cleaning Method
If your proposal ring has different types of gem, be sure to choose the right cleaning method that's suitable for all of them. For instance, pearls are softer than most stones, and can be easily damaged by solutions intended for diamonds. The safest and easiest way out is to return to the jeweller where the ring was bought. Ask about the ring's cleaning requirements and unique care, and let them do the periodical service of the jewellery.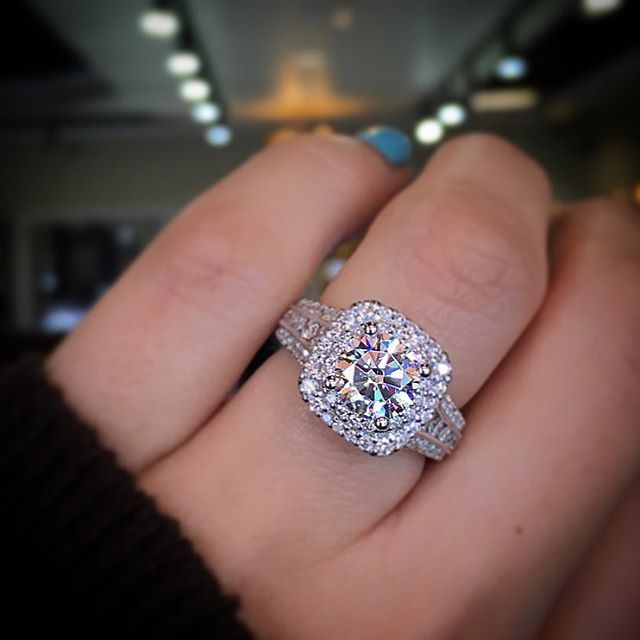 Proper Ring Storage
• If you don't frequently wear your engagement ring, wrap it in a soft fabric and then place it in a padded jewellery bag.
• On the other hand, if you wear your ring every single day, keep it in an uncrowded jewellery box every time you take it off. Go through your box and have seldom-worn jewellery stored in a safe deposit box.
• Do not store your diamond ring with other diamond jewelleries—diamonds can easily scratch other diamonds while platinum and gold bands can get easily damaged by other stones.
Maintaining Non-Diamond Rings
• Engagement rings with silver bands tend to tarnish due to oxidation, which happens when the metal gets in contact with oxygen. Over time, a shiny silver band will tarnish, though this can be cleaned easily. Dissolve a small amount of baking soda on a damp cloth or sponge and gently rub it onto the silver band of your engagement ring. Rinse it off with warm water and dry with soft, lint-free cloth.
• For white gold wedding ring, periodic reapplication of rhodium coating is required to maintain its white luster as the brilliance wear off over time.
• Antique engagement rings and art deco rings require delicate handling from a professional who has experience in cleaning older and less sturdy jewelleries. These rings require detailed cleaning to remove dust, dirt, and build-up from its intricate settings and carvings.
• Fine-cultured pearls can last for generations when cared the right way. Cultured pearls must always be free from cosmetics, dirt, perspiration, and perfumes. To clean your pearl ring, simply wipe it with damp cloth. If you wear your pearl ring regularly, we recommend having it cleaned and re-strung by a professional jeweller every couple of years.
No matter what kind of ring you have, regular maintenance is necessary to ensure the jewellery's longevity and to keep it in its best condition. With careful handling, regular cleaning, and proper storage, your ring will not only remain stunning, but as its monetary and sentimental value grows through the years, its brilliance remains the same as it was first put on your finger.